I found something interesting. I thought I'd share.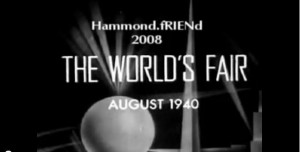 First, some quick background. Ableton and various partners offer add on instruments for Ableton Live. These can be auditioned on the Ableton site. Recently they ran a special and I picked up a few instruments.
One instrument that I had dismissed when I was auditioning the various sounds was the "Novachord"; an instrument created by the Hammond Organ company in 1938.
Fortunately there had been a partner instrument sampler issued by Ableton that included a few sounds from the Novachord. The sounds were so compelling I created a new age composition on the spot to hear these great sounds in a musical context.
This morning I was reading the Wikipedia article about the Novachord (http://en.wikipedia.org/wiki/Novachord) and read that composer/arranger, Ferde Grofe wrote music for the Novachord. If you aren't familiar with Grofe, he is considered the "Father of Arrangers". This article has interesting information on Mr. Grofe.
http://courses.wcupa.edu/frichmon/mue332/spring2002/dougballard/composer.html
Grofe's Grand Canyon Suite is a collection of pieces that describe sonically the Grand Canyon. He was instrumental in working with George Gershwin to create "Symphonic Jazz", specifically Rhapsody in Blue.
So why is this Ableton related? Grofe wrote and conducted a piece featured at the 1939 Worlds Fair that was performed on 4 Novachord Synthesizers. And this morning, I found out there was a video of this!!
The opening bass sound ( a combination of the drone of a old propeller airline/horror movie bass pedal) is even today, a deeply moving and dramatic sound. Then the video plays some pieces from the 1930/40 era but if you go to 2:30 in the video there is a gorgeous, warm, analog string sound. To my ear the sounds that were used for these interludes are sounds that could still be relevant to current music productions.
Anyway, I think the Novachord Sound Set by Ableton/Soniculture shows just how much depth there is to electronic music and I as I am discovering, it's association with some of the best musical minds of the 20th century.
The great contribution of Ableton is to not only break new ground with its techniques and innovative workflow but to also move the long and great tradition of electronic music forward while preserving the historic roots of the electronic music art form.
I hope you enjoyed that video as much as I did.