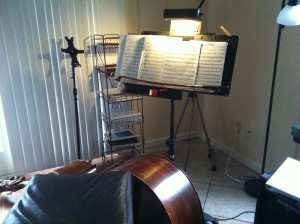 I really have to update this more often. So here is what is on the stand this week,
October, 2015.
For the Panama City Pops
"Symphony in B minor" Franz Schubert
"Rosamunde Overture" Franz Schubert
"Magic Flute Overture" Wolfgang Amadeus Mozart
"Roses from the South" Johann Strauss II
"Tritsch Tratsch Polka" Johann Strauss II
"Blue Danube Waltz" Johann Strauss II
"Carmen Quadrille" Eduard Strauss
Other music on the stand
F.Simandl – Well, the last half of the bass method anyway starting a page 64.
Bach for the Young Bass Player
Bourree – J.S. Bach
J. Harbe – 86 Etudes for the String Bass
Nouvelle Technique De La Contrebasse Books 1 – Francois RabbatH.
And finally A Contemporary Concept of bowing Technique for the Double Bass by Frederick Zimmermann.
And that is it. As you can see it is a big stand!